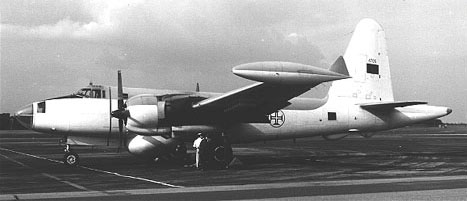 Following negotiations between the governments of the Netherlands and Portugal, 12 Dutch Navy P2V-5s were transferred to the Portuguese Air Force. The P2V-5s would replace PV-2 Harpoons of Esquadra de Reconhecirnento Maritime (Maritime Reconnaissance Squadron) 61 at Base Aerea (BA) No. 6 at Montijo, near Lisbon on Portugal's west coast. The first aircraft was delivered during June and the last arrived during March 1962. The FAP Neptunes were given serials 4701 through 4712. While some of the Neptunes retained their original dorsal turrets during the early part of their FAP careers, all turrets were eventually removed and their designation was changed to P-2E.

Contrary to the NATO charter, FAP Neptunes were used in combat operations during Portugal's colonial wars in Africa during the early 1960s and again, late in the decade. During 1968 and '69, two Neptunes were assigned to BA 9 at Luanda, on Angola, South Africa's west coast. From there, the P-2Es carried out bombing missions in support of Portuguese troops and flew coastal patrols. Others operated from the island of Sao Tome, nearly 200 miles off Gabon's shore, during the Biafra war, watching for armed ships. At Bissau, Portuguese Guinea in North Africa, BA 12 operated a pair of P-2Es along with a Douglas C-47, modified as a bomber.

By 1977, only four P-2Es remained operational with BA 6, the remainder having been scrapped or stripped for parts. Numbers 4707 and 4711 were the last Neptunes in Portuguese service, until they were finally withdrawn from use during 1978.

Neptune 4711 survives in storage for the Musee do Ar at Sintra, Portugal.