---
P2V-2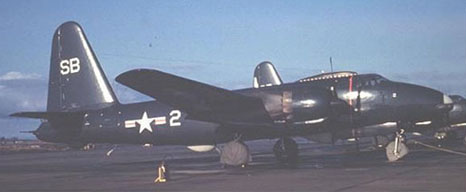 P2V-2, BuAer 39318 of VP-2.
The fifth P2V-1 airframe (BuNo 89086) was modified during construction to serve as prototype for the P2V-2 version. The 2,300 hp R-3350-8As of the P2V-1 were replaced by the 2,800 hp Wright R-3350-24Ws with water injection. Designated XP2V-2, it was first flown on 7 January 1947.

Delivered between June 1947 and August 1948 the production P2V-2s (Models 026-52-02 and 126-52-02) were powered by the same R-3350-24Ws as the XP2V-2, driving three-bladed propellers. The nose gunner position was replaced by six forward-firing 20 mm cannon in a metal-covered nose, of similar shape to that of The Turtle, and provision for carrying sonobuoys was added. The first eight P2V-2s retained the Bell tail turret introduced on the P2V-ls, whereas the next seventy-two P2V-2s had an Emerson tail turret with two 20-mm cannon installed. The first eight P2V-2s were sent to Emerson in St. Louis, MO where they were retrofitted with the new tail turret.




P2V-2, BuAer 39343 of AES-12, USMC.