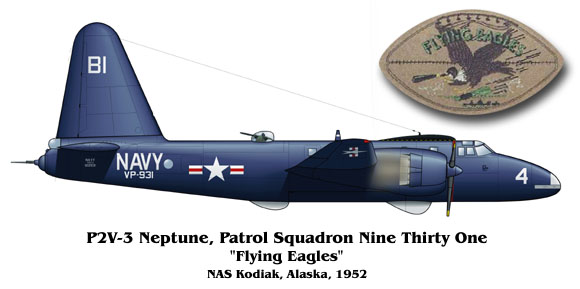 The invasion of South Korea by the North Korean army on 25 June 1950 caught U.S. forces by surprise. At that time, the U.S. Navy had only one cruiser, four destroyers and a few minesweepers on station in the Sea of Japan. The North Koreans and communist China, were primarily land powers with no significant naval forces. Control of the air, while soon achieved by NATO forces, was never absolute. Throughout the war, the efforts of North Korean pilots assisted by Russian and Chinese "advisors" presented a constant threat to the security of the patrol squadrons. Between 11 May and 22 November 1952, four attacks were made by MiGs on U.S. Navy patrol aircraft, including one reserve patrol squadron. Nine reserve patrol squadrons, six from the West Coast (Pacific Fleet) and three from the East Coast (Atlantic Fleet), were involuntarily recalled to active duty during the period 29 July 1950 to 1 March 1951.

VP-931 was one of the six Pacific Fleet reserve squadrons called to active duty on 09/02/1950. VP-931 was stationed at NAS Whidbey Island, WA. flying P2V-2s and P2V-3s. On March 28th, 1953, VP-57 Deployed its P2V-5s To NAS Atsugi to support the war in Korea, patrolling the Sea of Japan and the Yellow Sea until 07/27/1953. The reserve squadron's service during the conflict was exemplary, leading to their permanent augmentation from the reserves to active duty before the hostilities concluded in July 1953. VP-931 was redesignated VP-57.

After nearly six years of Neptune operations, VP-57 made its last deployment to NAS Kodiak, Alaska and Adak in January 1956 with P2V-5s.

After the squadron's return to Whidbey Island in June 1956, the squadron made preparations for the decommissioning of VP-57 and subsequent recommissioning as Heavy Attack Squadron 4 (VAH-4), flying the Douglas A3D Skywarrior (07/03/1956).

VAH-4 was again redesignated, this time as VAQ-131 on 11/01/1968 re-organized at NAS Alameda, California, initially equipped with KA/EKA-3Bs. In May, 1971, VAQ-131 moved to back to NAS Whidbey Island, Washington, to transition to the Grumman EA-6B Prowler.